CAR SERVICING NEAR ME

Watford and Hertfordshire
Do you require car servicing in Watford and Hertfordshire? Call your local garage today on 01923 239460.
Here at MOT Garage Watford we strive for providing you with excellent car service using only the best of materials. We are committed to honouring the manufacturer's servicing schedules. All parts used are of the highest quality and recommended by the vehicle manufacturer.
Our modern diagnostic equipment is manufactured by Sun and Bosch, enabling us to provide you with premium auto repair services. This includes free customer pick-up and delivery, a complimentary vehicle to use in the event that your car should need extensive repairs and be required to stay at our shop for several days. Having your vehicle serviced by MOT Garage Watford on a regular basis comes with its advantages, including:
Fewer chances of breaking down, thus reducing the need of repair

Minimal auto repair costs during the life of the vehicle

Less overall fuel consumption

Lower repair charges than main dealers

Complimentary courtesy car

Customer collection & delivery services (within a reasonable distance)

The checking of window, door and seat belt operating conditions

The lubrication of locks and hinges

WHAT IS INCLUDED IN A CAR SERVICE?
All of our services are one step above the rest! Thus, the basic service we provide includes a changing out of your oil and filter, plus we will also perform a visual inspection as well. Using only the best fluids in your car, which includes (power steering fluid, window washing fluid, antifreeze and brake fluid). We're also equipped for checking up to 35 main components as well. Allowing you to rest easy about the running condition of your vehicle.
Full-service car maintenance usually includes all of the services mentioned previously, including a check of up to 30 additional car components (an upgrade from our basic service). And if there should be any problems detected, our shop will contact you just as with the basic service.
CAR SERVICE CHECKLIST
Our annual full service ensures that your car is running at peak performance. We can provide you with inspections, adjustments, spark plug replacement, oil changes, oil filter replacement or replacing of your air filter.
The full car services in which we provide vary depending on the vehicle, but for a better understanding, here's a list of those offered:
Oil changes
A check of the alternator and/or battery
The replacement of air filter, spark plugs, oil filter, cabin filter and fuel filter (as needed)
An inspection of every switch in the vehicle
Inspection of car tyres
Brake inspection and cleaning
Road test
The checking of fluid levels
Performing emission tests
Aligning headlights of the vehicle

An overall inspection of the vehicle, including its underside
Suspension, exhaust and steering check-ups

FULL CARE SERVICE COSTS
While working on your car, if we should find any additional problems, we'll promptly contact you about the estimated cost and discuss the issues found. We are dedicated to providing you with optimum service and reliability.
You have the option of choosing our annual full service, or interim repair services to ensure the safety and performance of your vehicle.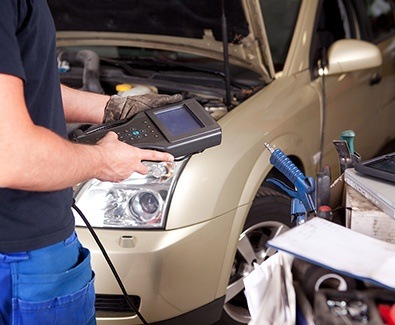 ---
If you are looking for car servicing near me in Watford and Hertfordshire call MOT Garage Watford today on 01923 239460.