CAR BRAKE REPAIR & BRAKE PAD REPLACEMENT

Watford and Hertfordshire
Do you require car brake repair & brake pad replacement in Watford and Hertfordshire? Contact our repairs garage today on 01923 239460.
Maintaining your brakes is important in keeping both you and your passengers safe. If you notice a high-pitch squeal when you brake, it could be a sign that they need repairs.
The best thing you can do is to consult an experienced mechanic to resolve the issue before it leads to an accident. If you require car brake repair or brake pad replacement call us today.
We are specialised in the following services:
Hand brake repairs and servicing
Supplying and fitting brake shoes and brake pads
Replacing and adjustment of the brake
Brake fluid checks and top ups
Why Choose MOT Garage Watford?
Successful brake repair & replacement can be a matter of life and death. We put the needs of our customers first and repair their vehicles efficiently and honestly. Here are just some of the reasons you should choose us:
Over 25 years experience
We provide fast and efficient services
We deal with all vehicle makes and models
We work with a team of highly experienced and skilled mechanics
Our prices are fair and competitive
Our work is based on transparency and if any problem is identified, we explain the work required and give a competitive quote to ensure that the car owners are aware of what we intend to do. We will not carry out any work without first seeking your approval.
We supply brake pads, discs and perform complete brake replacements or minor brake repairs. Our team of highly trained and dedicated engineers who have worked for years with all car models and makes and we promise nothing but complete customer satisfaction.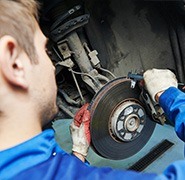 What does a brake check include?
Our brake check entails visually inspecting your car brake system's components meaning that our ATA-trained technicians will look at brake pads, discs, shoes, calipers, hoses, and handbrake linkages. If your car requires brake repairs, we explain why and we quote our costs upfront – no hidden charges.
What is the cost of replacing brake pads and discs?
Many people tend to ask about the cost of replacing brake pads and discs. Well, we cannot quote a specific cost as it changes depending on your car. The most important thing to keep in mind is that we do a brake check for free and we keep you updated on how much the brake service will cost, and there is no obligation to have brake pads or discs fitted.
We take our work seriously and brake fitting is done using top quality parts that meet the original specification of the manufacturer, which is carried out by our expert, ATA-trained technicians. We are quality-minded and not profit-minded; we don't use low-quality cheap brake pads that will require replacement after a short period.